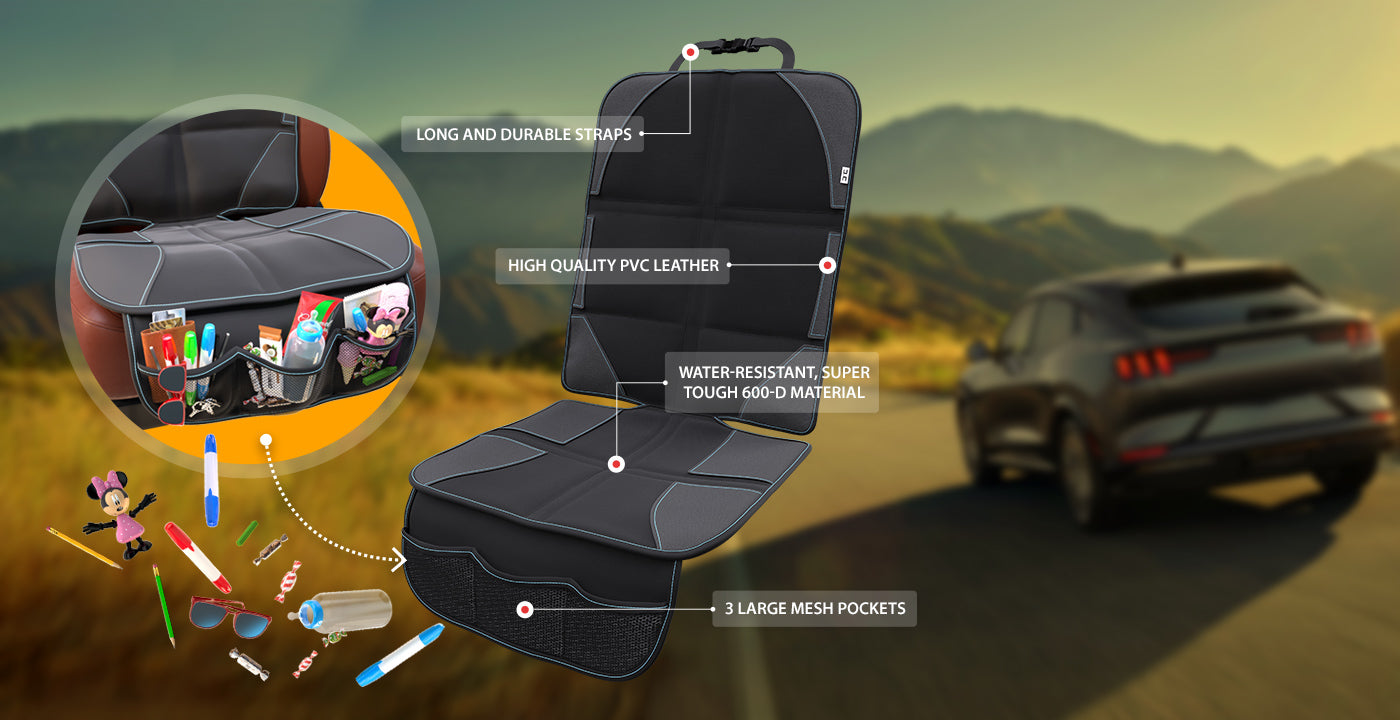 INTRODUCTION
Overview
Why CarCube® seat protector?
Let's be honest. Doesn't your heart break when you discover new scratches and stains on your car seats? Don't you wish to have a less tiresome car-cleaning regime?
We heard you!
Presenting CarCube - a revolutionary car seat protector that saves your precious leather/fabric upholstery from accidental spills, pet scratches, baby's diaper explosions, color-bleeding fabrics, and more.
Made from water-resistant material and high-quality PVC leather, CarCube is durable, easy to clean, and suitable for all seat sizes (including baby car seats).
Its anti-slip backing and adjustable head-rest attachment strap prevent unnecessary movements on rough roads. Also, the mesh side pockets provide additional storage where you can stash all your travel essentials.
Order CarCube®  seat protector today and keep your car seats look like new forever!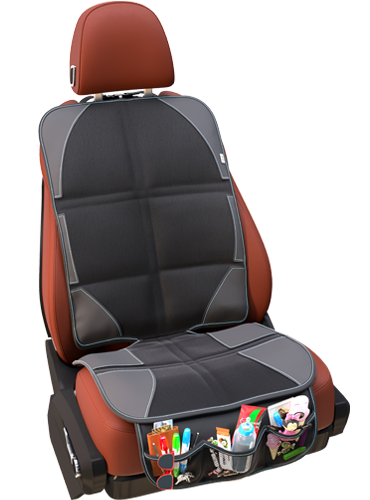 Product highlights
Heavy-duty car seat protector that fights scratches, stains, and dirt

Made from durable water-resistant 600-D polyester material, high-quality foam and PVC leather, and non-slip rubber sheets

Easy to clean, just wipe with soap water

Comes with an anti-slip backing, flap tuck, and adjustable headrest attachment strap for better stability

 3 large mesh pockets provide extra storage

Compatible with all baby car seat brands

Ideal as car child seat protector that guards against spills, leaks and diaper explosions

Suitable for all sizes of seats and all upholstery material
Carcube Seat Protector
Features
Safety
CarCube car seat protector is safe for all types of upholstery materials. It comes with an anti-slip rubber backing, flap tuck, and adjustable headrest attachment strap that warrant for zero movement; especially for your child's car seat.
All-weather suitability
CarCube is suitable for all cars and under all weather conditions. The water-resistant 600-D polyester fabric doesn't allow moisture to creep in, even in the hot and humid climate, thus ensuring zero bacterial growth. The high-density foam and PVC leather edge guarantee total comfort during long hauls.
Care and Cleaning
CarCube is incredibly easy to clean and maintain. Just wipe it with a sponge and soap-water and you are good to go. For better hygiene of your car interiors, we recommend a weekly cleaning regime.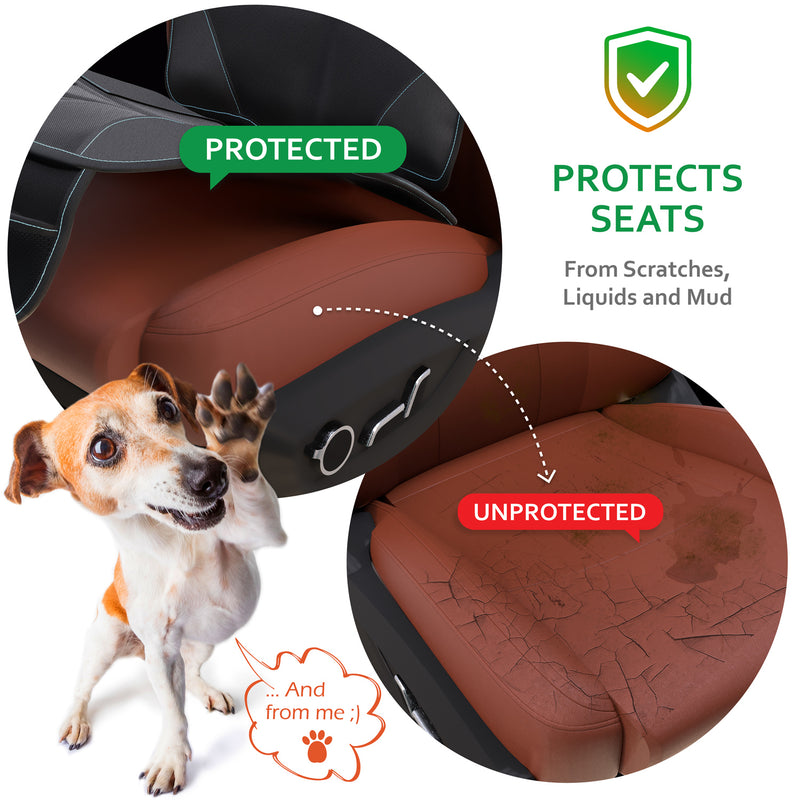 HOW TO ADJUST: Carcube Seat Protector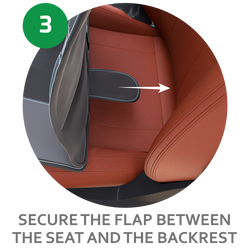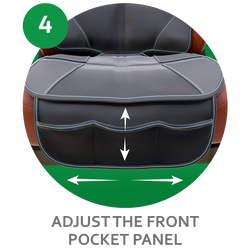 The smartest
Design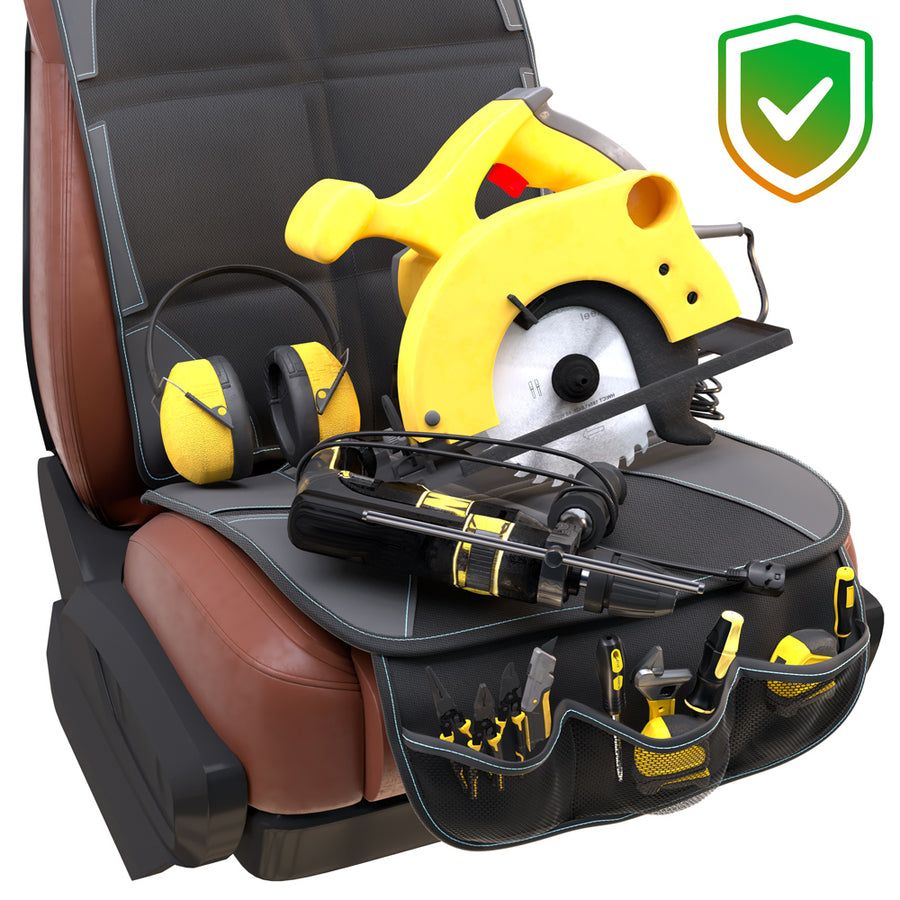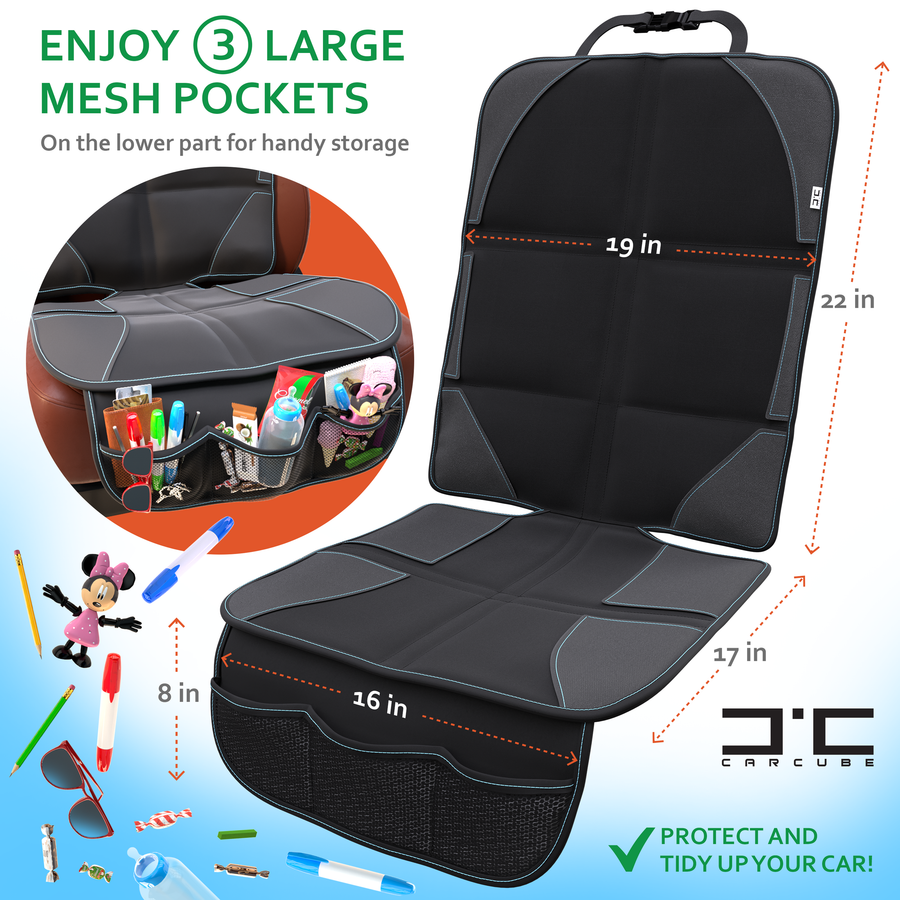 Happy customer
User reviews
Great quality, great price!
Really love this, fits perfectly in my 2016 Audi Q5. It was easy to install and stays in place beautifully. Very impressed with the quality. I usually don't do reviews but this is such an excellent product I had to this time!
Liza
Great Seat Protector
Finally I found a car seat protector that truly protects my car. This car seat protector has survived my dog and the dirt my children love to fondle in. Thank you
Lana
Very useful!
It's a very useful car seat protector. First of all it protects my leather seats and thank to pockets I organized my mess in the car. Definitely recommend.
Michelle
Better than Expected
I have been looking for the perfect car seat protector and finally found it! I got for a Mother's day present. Made out of a really good and strong material and easy to install. I highly recommend.
Victor